Our Rabbi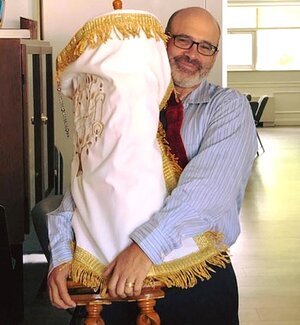 Rabbi Craig Lewis is excited to be living in Chattanooga and to serve the historic Mizpah Congregation. He loves to share his joy of Judaism by facilitating sacred moments of prayer, learning, celebration, and action. He strives to bring a touch of humor to his work and is always focused on the heart of his purpose, to help Jews and Jewish families closer to their faith and heritage. Rabbi Lewis is passionate about Jewish education and especially enjoys working with children of all ages, from toddlers to teens. He also enjoys the challenge of working with adult learners who are seeking deeper understandings of God, ritual, and Jewish history. He finds deep meaning in his pastoral responsibilities, taking great joy from welcoming children to the covenant, guiding them to the Torah, and bringing wedding couples the chuppah. In all cases he works with families to create personal ceremonies rooted in tradition. He likewise embraces his sacred obligation to be with people in harder times, when they are dealing with illness or the loss of a loved one. He is a compassionate listener and believes among the highest of our sacred obligations is to be present for and offer comfort to others.
Rabbi Lewis grew up in Prairie Village, Kansas in the Kansas City metropolitan area and attended the University of Kansas where he earned a BS in Business Administration with a concentration in French language. He then attended L'Ecole Superieure de Commerce in Clermont-Ferrand, France where he received a Masters in Management. After deciding to become a rabbi, Rabbi Lewis attended Hebrew Union College – Jewish Institute of Religion in Jerusalem and Cincinnati, OH. While at HUC-JIR, Rabbi Lewis earned a Master of Arts in Hebrew Letters and received rabbinic ordination. His senior thesis combined multiple passions as he studied French language literature of the North African Jewish communities. He has served congregations in Mattoon, IL, Muncie, IN, Wyoming, OH, Irvine, CA, and Lincoln, NE. He has served on the boards of Hillel of Orange County, Hildegard Center for the Arts, Nebraska Interfaith Power and Light, and the Jewish Federation of Lincoln.
One of the hallmarks of Rabbi Lewis's rabbinate has been interfaith outreach. He has spoken at many churches teaching about Jewish holidays and basic tenets of Jewish faith. He has also welcomed countless Confirmation groups and college classes to services he has led. He has been a keynote speaker for the Lincoln Mayor's Interfaith Breakfast and at a professional development retreat for DOC and UCC pastors in Nebraska. Rabbi Lewis also took pride in coordinating and hosting the annual Interfaith Thanksgiving service in Lincoln, a musical gathering of people of the Christian, Jewish, Muslim, Hindu, Buddhist, and Bahai faiths.
Rabbi Lewis has varied interests which often become integrated into his teaching. He loves sports, particularly the Kansas City Royals, the Kansas City Chiefs, and the Kansas Jayhawks. He is a fan of movies, mostly comedies, especially the works of the Marx Brothers and the Zucker Brothers. He is a big fan of all things Disney and has been a frequent visitor of the theme parks in Florida and in California. He enjoys running and going for long bike rides. More than anything, he enjoys sharing these activities or just spending time with his family, his wife Jennifer and their son Eden.
Wed, September 27 2023 12 Tishrei 5784